Basic Knowledge of the Labor Standards Act for Foreigners Working in Japanese Restaurants
Legal Systems
Relesed:Nov 18, 2019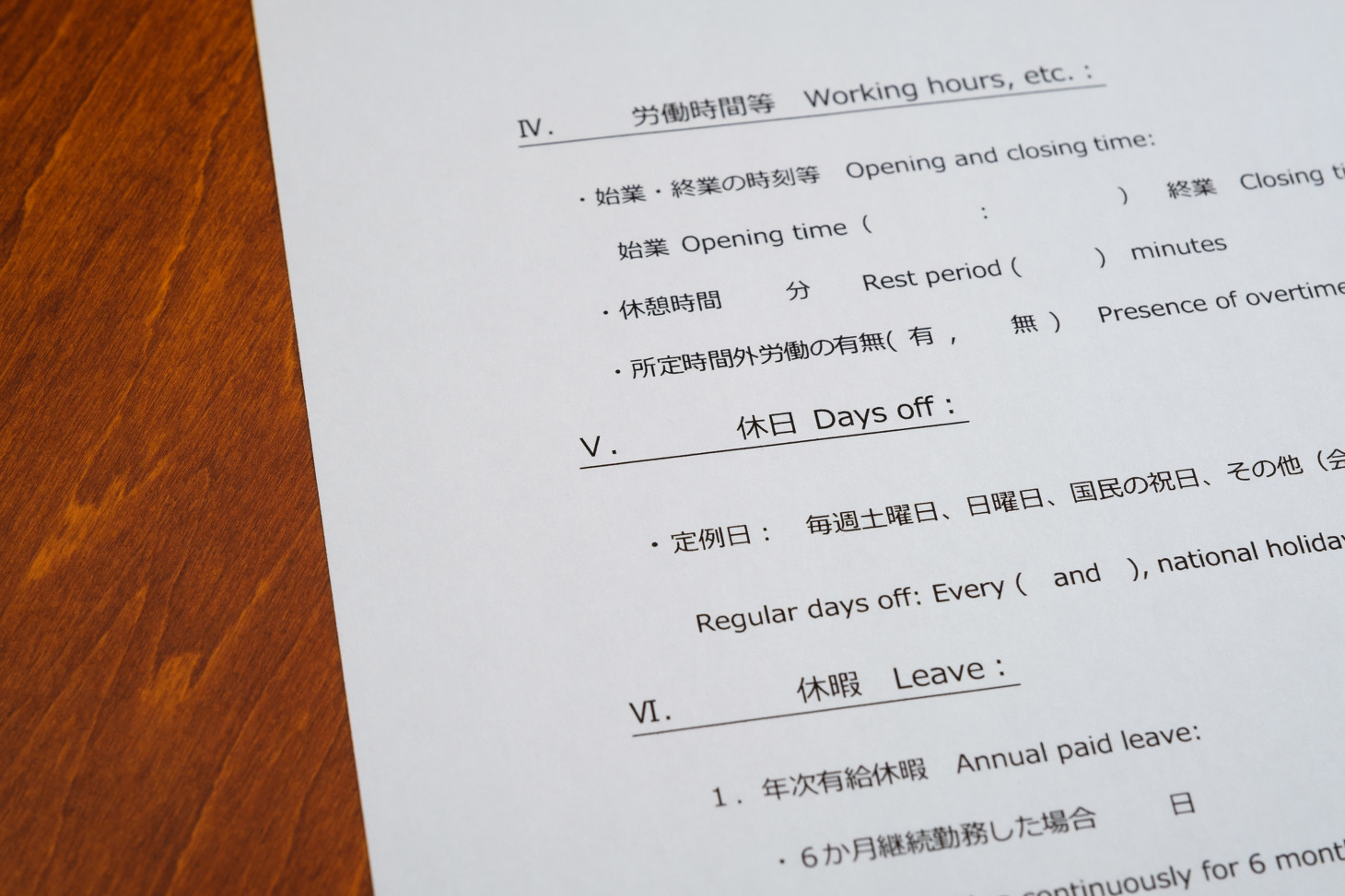 When a foreigner works in a Japanese restaurant, various labor standards act and regulations apply as in the case of Japanese. In particular, the Labor Standards Act, which defines working conditions, is one of the laws that foreign workers should be aware of in order to avoid being involved in workplace troubles. This time, we will explain the basic knowledge of the "Labor Standards Act" that foreign job seekers want to get to know.
What is Labor Standards Act?
In the first place, the Labor Standards Act is a Japanese law that stipulates minimum working conditions that should be observed, such as working hours, breaks, and holidays. This applies to all workers working in Japan, including Japanese as well as foreigners.
Article 3 of the Labor Standards Act says that employers must not discriminate against wages, working hours, or other working conditions because of employees nationality, creed or social status. Also discriminating working conditions based on employees' nationality is prohibited.
If you are in trouble with an employer under working conditions that violates the Labor Standards Law, please consult with the "Foreign Worker Consultation Corner"near you.

Prevent working troubles! Points of Labor Standards Act
Japan's Labor Standards Act has various items concerning working conditions in 13 chapters. Here are some of the points that foreigners should keep in mind when working in Japanese restaurants. If you are looking for a job, check it against the working conditions on the job offer lists to prevent problems.
■ Working hours
You may have image that Japanese working hours are long, but working over 8 hours a day and 40 hours a week is prohibited by the Labor Standards Act. However, you can work overtime if satisfying the conditions.
Also, if you are staying in Japan with some status of residence such as "Student visa", be aware that working hours are limited.
■ Break
The break times specified by the Labor Standards Act are as follows. The break time varies depending on the working hours.
・ In the case of over 6 hours and within 8 hours …… break time:45 minutes or more
・ Over 8 hours ……break time: 1 hour or more
In the case of general companies, usually break time is around noon, from 12:00 to 13:00, but most restaurants are busy at the time. For this reason, there are many cases that restaurants' staffs take a break after lunchtime. The way to take a break is depending on the shop, so it's a good to ask about that at an job interview.

■ Holidays and annual paid leave
In addition, it is decided to give 10 days of paid leave if you work continuously for more than 6 months and work more than 80% of all working days. The number of days of annual paid leave is up to 20 days, and it is stipulated that one day is added every year after 6 months and 2 days are added after 3 years and 6 months.
■ Wage
It is stipulated to pay extra wages to workers when they are working overtime, late night (22: 00-5: 00), or legal holidays (minimum holidays defined by the Labor Standards Act). The rate of wage surcharge is as follows.
・ Overtime, late-night work: 25% increase
・ Legal holiday work: 35% increase

■ Dismissal
The Labor Standards Act stipulates that a 30-day advance notice is required when a worker is dismissed. If a worker is dismissed without notice, a dismissal notice allowance (average wage of 30 days) must be paid. In addition, dismissal is prohibited during periods of medical treatment for injuries or illnesses relating the work, or during maternity leave.

Stock photos:PIXTA
Check other labor standard laws and regulations
In Japan, in addition to the Labor Standards Act, there are other labor standard laws and regulations that apply to foreign workers, such as "Minimum Wage Law", "Industrial Safety and Health Act", and "Industrial Accident Compensation Insurance Act". All of these laws are intended to protect workers, so check them to avoid troubles.

■ Minimum wage law
A law that guarantees the minimum wage to be paid. In Japan, minimum wages are set for each prefecture, such as 1,013 yen for Tokyo and 964 yen for Osaka.
The minimum wage applies not only to Japanese but also to foreigners, so make sure that your salary is not below the minimum wage. You can check the minimum wage for each prefecture on the website of the Ministry of Health, Labor and Welfare.

■ Industrial Safety and Health Act
This law is independent from the Labor Standards Act and aims to ensure the safety and health of workers and to create a comfortable working environment.

■ Industrial Accident Compensation Insurance Act
Industrial Accident Compensation Insurance Act is a law that stipulates guarantees for injury or illness that occur during work or commuting. This applies to all foreigners working in Japan, such as part-time workers studying abroad.


Knowing the Labor Standards Act can help you find a better workplace. Workplaces that violate labor standards are more likely to get into trouble. If you are a foreigner who wants to work at a restaurant in Japan, you should check carefully about labor-related laws such as the Labor Standards Act.